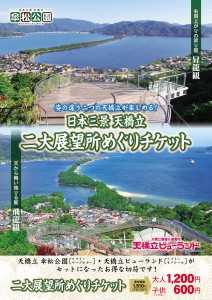 "Amanohashidate View Land" and "Kasamatsu Park" entrance ticket (discounted)
See the wonderful view from the "View land" called "Hiryukan ( view of the skyward dragon)" and the fantastic view from the "Kasamatsu Park" called "Syoryukan (Rising dragon)"
The view differs depending where you see it from.
Check both spectacular views from two different spots.
Where
to get
Amanohashidate View Land, Kasamatsu Park,
Amanohashidate station sightseeing info center,
Amanohashidate sightseeing info station, Miyazu-Koryu center,
Amanohashidate tour boat boarding point.

*At the view land, you can get the ticket at the Chairlift & Monorail ticket counter.
Prices
Normal prices : Adult 1,530yen / Child 800 yen

Special discounted prices : Adult 1,200yen / Child 600yen

*Validated date: 2 days including the purchase date
*No other special tickets or coupons allowed at the same time

*No refund after purchasing
You can get on the Amanohashidate tour boat with the discount price
if you show this ticket at the boarding point.
More information about the tour boat, call the number below.
Tango Kairiku Kotsu Corporation :
0772-22-0032